HYPE! SUPER DUPER HYPE!
Okay i know a few people that think Kanye is fake and what not. His style of dress, hes taking an "urban" thing and making it mainstream. Those aren't my thoughts, thoughts of some kat i know.
Really i think that Kanye is what he is. I respect him... i guess. He just like to make music geezus is that a crime? Hes constant with being him. He's outspoken about alot of things artist don't know about, or care to speak about. He's mainstream, and thats what his career was made to be. Kate Moss is who she is, High Fashion.. and that vida chick is who she is... trash!! aww that was mean. Oh well.
The CD. I think its alright. I don't think I've heard the full album.

Fave songs so far...

Flashing Lights feat Dwele

Homecoming feat Chris Martin

oh yeah and him bustin' out on ENTOURAGE this past week didnt see that comming. Well i guess so they were playing his song like 4 ep. before this one.

(i love that show)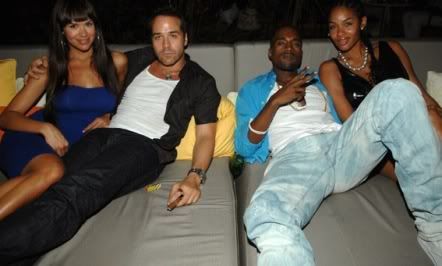 damn J.Piven is hot! geezus!
Thanks Kyle for the tunes!
Also check for that Blu and Exile album, go BUY that!!!! fuck 50! (i had 2 sorry haha)