really. if you're a consistent
iPoder
like myself maybe you can get with me on this. (Even if you have a
zune
whatever tickles your fancy for listening to your tunes.) Random is the best. Especially when you just uploaded up your favorite overseas slow jam. As I'm sitting here trying to edit an old photo of me and cousins from 85'. Check it: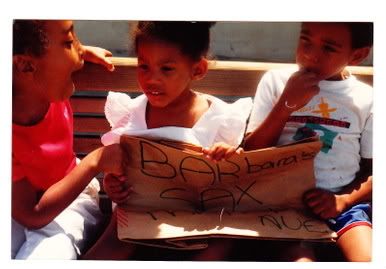 cuzin kiki, jennyb., jak(this photo is classic, great story behind this..)
BUT!
Like i was saying the
iPOD
!
this is what my
ipod
just spit out:
steely

dan

: the royal scam ( WHAT!)
eXILE

-

ghostface

: Milk 'Em
another Exile: track 9 (radio PROMO)
common- a film called PIMP
The exactly presents: your new favorite mix tape- Love Don't
(go download this

mixtape

if you dare)
... now its moved on to DJ PREMIER 
instrumental